CONTACT:
+31615136300
info@rubensnitslaar.com
ABOUT:
These days, everybody is a photographer. Many of us look, but do we all see…
Based in Amsterdam The Netherlands, Ruben has been scouting locations and assisting producers
in (mainly advertisement) photography and film, for many years now.
In doing so, taking pictures has become a significant part of his work.
Combining this to his great passion wave surfing, he picked up photography on a different level in 2011.
He began shooting images of surfing. It came as by nature to him to do this from his own perspective, from the water.
In his 2011 Viewbook Photo story
'A certain percentage of water'
, he described his work on surfing as follows;
"Water attracts many of us. As a matter of fact, we 'are' water. This story is about surfing.
About being at one with the ocean and the joy of being out there."
Ruben has always been fascinated by still images. Freezing a moment in time which generally
is not detected by the naked eye and seeing a subject within a certain framing.
Creating an image shooting from the water, ads an interesting element to still photography.
One is shooting a moving subject in a moving environment, whilst moving in doing so.
An important aspect of Ruben's work, is it feels like one was present the moment an image was created.
The key characteristic in his Dutch surf photography is not only to make us feel what it is like to be out there,
but also to tell the story about wave surfing in his own environment. The surf of the cold murky waters
of the Dutch North Sea instead of the usual tropical destinations with clear waters, palm trees and hula girls.
He specifically points out the fact that despite this large contrast, yet we all share that same unique experience.
Dutch, opposed to Hawaiian surf… it is all about being out there. He describes this as
'The Aloha spirit in a raincoat'
. ;-)
Photography is a way of seeing. One can see everywhere at any moment.
Naturally, Ruben does not only shoot from the water as becomes clear by viewing the images on this website.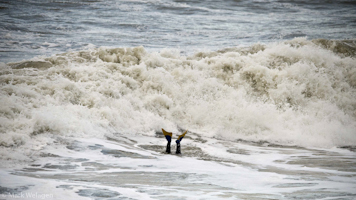 Image by Mark Welagen.
COPYRIGHT:
© 2017 Ruben Snitslaar All photographs by Ruben Snitslaar. All rights reserved.
No part of these photographs may be reproduced, stored and or transmitted in any form or by any means.
Electronic, mechanical, photo-copying, or other wise, without prior permission in writing from the copyright owner.
Any unauthorised usage of images without the appropriate credits will result in a charge being levied.
Thank you for your understanding.
VIEWBOOK:
For optimal use of this Viewbook site,
Click on album cover image (or album title) to open album.
Click on first image, now use 'home' 'end' buttons on your keyboard to scroll through images.
Advised options: 'fullscreen' & 'play' (slideshow). Options bar & thumbnails appear by moving mouse in position.